Japan Tips - Kyoto
You won't be sorry about choosing Watazen Ryokan. We stayed there January 22-27 and had a wonderful time. It shows some of its 150 years, and there is no garden off the rooms - only the breakfast room, and it's not much - but it's still a real ryokan experience on a budget. The staff is very, very attentive, albeit with limited English, but they make up for it with sheer hospitality and they try so hard. Just as we left, a Canadian girl started working there so maybe the English thing will get better. Through March a double room with bath is about 12,600 yen per night. Other ryokans charge that per person. Sure the room is on the smaller side and dated, but you still get the experience without paying a fortune, and the service can't be beat. In Japan, you do get what you pay for. There are no bargains.
The Japanese-style room we were assigned had somewhat old (not in the good way, more like funky 60's) furniture both Western and Japanese (two chairs on the floor with a table, two Western chairs with an end table in an alcove), but the woodwork was beautiful. We were greeted at the front desk warmly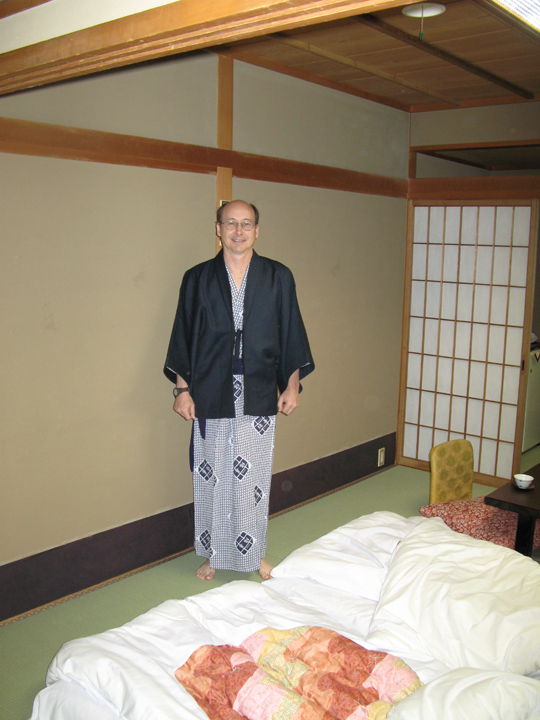 and immediately shown to our room, where one of the floor maids made tea for us and offered sweets. Try them, even if they look weird! They're good. Yatsuhashi is the name of the cookies that look like won tons and taste like cinnamon (second row of pictures, left-most picture - they are a Kyoto speciality, don't miss them. There are also Yatsuhashi in strawberry and chocolate, if you want a taste treat for the folks back home and think they may be squeamish about red bean paste, which is the filling of the ones I like. They are the same price all over the city, so don't bother shopping around.
The room also had a refrigerator. The inn provides a hair brush, toothbrushes and toothpaste (fresh daily), shampoo but no conditioner, razors for the gentlemen, and yukatas/haoris (like a kimono with an overjacket) for sleeping and roaming around the inn. Most people in the inn wore theirs to breakfast. There is a pay TV.
That night after dinner, we returned to find our room had been transformed into sleeping quarters with futon-style bedding. It's really very comfortable. I have a bad back and bad knees and we were staying at the Watazen because we had our teenaged daughter and her friend with us and wanted the experience of a Japanese-style inn, but I really had no problem getting up and down or sleeping (although it wasn't pretty watching the process). There is no curfew at this ryokan. We did not try the public bath in their basement, because we had baths in our rooms. They had the wonderful heated Japanese style toilet seats with bidet features that I want to have back here at home! Do read the feature at the Japanese tourism site on ryokans, you'll have a much better stay - especially the part about the toilet slippers.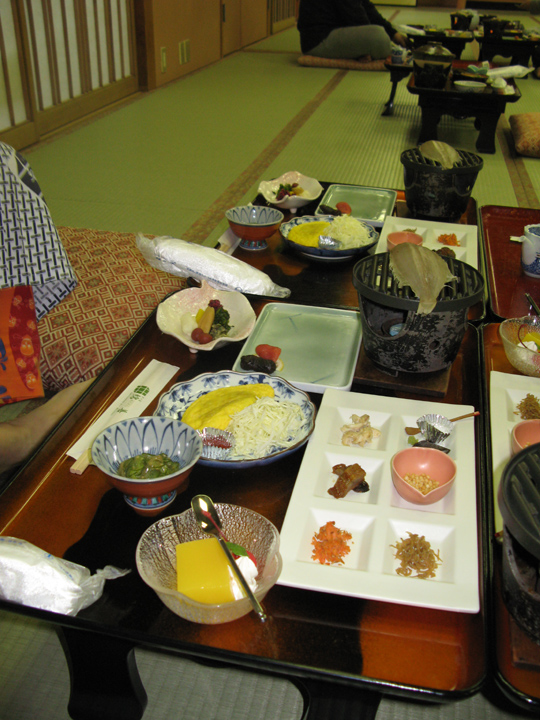 In the morning we had a bit of trouble understanding that we had to go downstairs for breakfast, because their website had said that meals were served in your room, so we just kept waiting. We did figure it out about 1/2 hour late and went down to a sumptuous Japanese-style breakfast of tofu, eggs, fish, rice, and pickles and of course, tea. Too much food, actually - my husband and I split ours.
Watazen Ryokan is in a great central location, near Shijo Street and Karasuma for luxury shopping, near Teramachi Street for funky shopping and my favorite 100-yen store, and also near Nishiki Market for snacks. The longest cab ride we took was to Arashiyama, which cost 2,100 yen (less than $20). Most were around 960 yen. Subway may NOT be cheaper for parties of more than two - check your fares first.
The ATM that takes foreign credit cards is on Shijo St. across Karasuma (Citibank) near the Watazen. I read many listings that said post office ATMs took foreign cards, but that turned out not to be true, nor did even big banks have ATMs that accepted foreign cards. We are on the major networks, Plus and Cirrus, so it shouldn't have been a problem. In Japan we had the most problem getting money that we had anywhere, ever. Also, get some yen before you go or get it in the airport (I'm told that works although I didn't try it, being the cautious type), because you won't have any for the taxi ride or subway.
If you are dining on a budget, try the 711 (2 bl north one bl east of Watazen) or the Shop 99 (1 bl north) or any corner market. No credit cards. You can get all the food and drink you need there, and they'll heat it too. And did I mention ice cream? Buy the local brands, they're cheaper, although you'd be amazed at what Haagen-Daz makes for the local market. We liked chocolate ice cream between two wafers, big picture on the front. My suggestion is eat breakfast at your ryokan (600-1,000 yen), eat lunch at any restaurant with a decent set price menu (like 1,000 yen, try the Garden Oriental (another link) for Italian food near the Gion, or one of the Indian buffets) and eat dinner from the Shop 99 in your room, if you're on a budget. They have rice balls (onagiri) with all sorts of things in them, which you can actually decipher from the package. They're good.
We did have dinner one night at Cafe Soholm, another Italian place, which was good but pricey ($56 for four persons w/shared salad and individual pasta plus drinks) vs. $31 for four at a Japanese restaurant (ordering enough but carefully and no drinks) when all was said and done. But if you just drink water (o-mizu, kudasai - "oh-meezoo, koo-da-sigh") and tea (o-cha, kudasai - "oh-cha, koo-da-sigh") with your meal, any meal will be much, much cheaper, as drinks tend to be $4-5 for alcohol and non-alcohol alike.
Go to sleep early. Japan seems to slow down after dark and wake up at dawn. Especially the Nishiki Food Market, home of the freshest Japanese foodstuffs ever!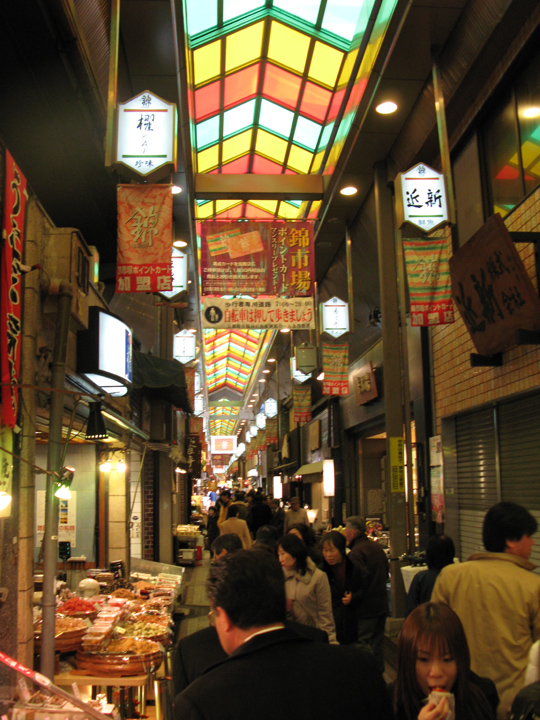 Taxis in Kyoto
If your party is over two (ours was 4), taxis may be a bargain. There seem to be two kinds of taxis, those that start at 640 yen and those that start at 560 yen. Both looked the same to us. Because I can't walk much and wanted to reserve my limited walking for attractions, we took taxis everywhere. The starting price gets you around 2 miles, and then the fare goes up based on distance and time. The charge from the Watazen Ryokan to Kyoto Station was 1,260 in rush hour and 960 coming back. The drivers spoke hardly any English, so make sure you pick up a Kyoto map with the destination names written in Japanes and English. It will be invaluable on your travels. The Tourist Center at the Airport had one that we used a lot. Also, our concierge was able to translate for us when the destination was not on the map. Loved the lace doilies in the taxis and the white gloves! The whole taxi experience made you feel as if you were in very good hands, which is not always the case in, say, New York.
Getting to Kyoto from Osaka (return to top)
We took the unreserved express train (tickets are up a floor from the arrivals area in Osaka airport, they take credit cards there but not downstairs) and that worked fine arriving. Departing, we took MK Shuttle for the same price which was even better. Your hotel can contact them - print out the info and bring it with you. It sure saved on the taxi ride to Kyoto Station, plus the hassle of hauling all our luggage around and finding the train. However, tell them exactly how much luggage you have, counting carry-on, because otherwise you'll be holding it in your lap! And they do charge 1,000 yen extra for more than one bag, so the lap thing is an option. We had around two bags each plus a sukoshi extra, and I had bags under my feet after they put the one we contracted for in the back. I mean, who counts carry-on, right? Wrong!
The Geiko/Maiko makeover
We used Studio Shiki, which is located outside the Gion in a historic district. Trust us, the Gion does NOT look like it did in Memoirs of a Geisha. So you're better off going with this studio than one that advertises being in the Gion.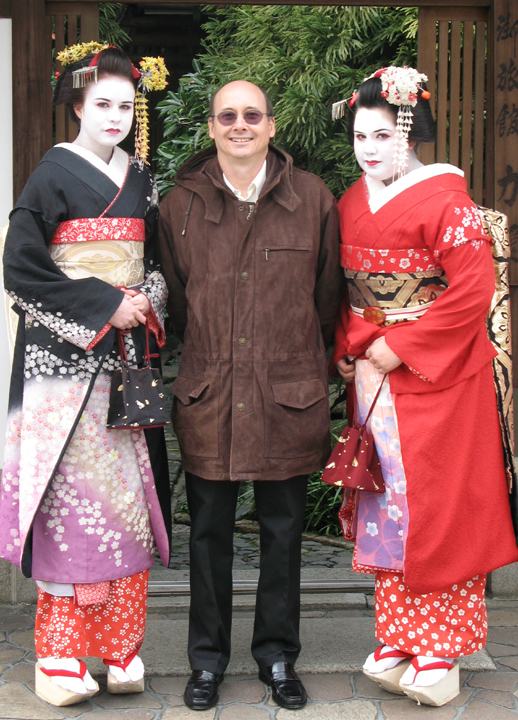 The makeover took around 2-1/2 hours including the initial makeup, walking around and taking the makeup off afterwards (and if you have sensitive skin, expect a massive breakout soon after the experience, as the makeup is heavily greasy). They did not have a service guide in English on-site, nor did anyone there particularly speak English, so make your reservation ahead of time on the English web page. We received no confirmation as they had indicated we would get via email, but when our concierege called on arrival in Kyoto, we found that we were expected at the right time. We contracted for the mini-outdoor photography plan, plus the half-wigs for around $150 (18,000 yen). When we were out walking around, Japanese people were stopping us in the streets to take photos. Not this one, he's my husband! Don't cheap out and get only the studio pics, it's worth it to splurge! We had so much fun watching the Japanese people watch the girls, I can't even tell you.
And besides, Garden Oriental is right around the corner for lunch afterwards - how much better can it get?
Arashiyama and the Bamboo Forest Walk
What can I say, just gorgeous! Arashiyama is a quaint village to the west of Kyoto, still somewhat in the old village style. Guidebooks will all recommend it, and in this case I agree with them.